How to make an appointment with CAPD
Wondering how to make an appointment with a CAPD staff member? Follow these steps to get connected with someone who can provide tailored support for your career and professional development questions, from writing a resume or CV to graduate school or faculty applications, and everything in between.
CAPD is committed to creating a welcoming, inclusive environment for everyone we serve. If you need any disability-related accommodations to access Handshake, please email capd@mit.edu and our staff will be happy to set up appointments or assist in navigating other Handshake resources.
Prefer audio or video instructions? Here's a captioned video and voiceover walkthrough of setting up an appointment.
Step 0. Click on the red "Schedule Appointment" button at the top of the CAPD website to skip steps 1 and 2, OR…
Step 1. Log into Handshake and select "Career Center"
If you haven't used Handshake yet, you can learn more about the website and how to log into your account in our Handshake 101 resource.
Step 2. Select "Appointments"
This will bring you to a page where you can schedule a new appointment, as well as see your existing appointments and past appointments.
Step 3. Select "Schedule a New Appointment" and choose the kind of appointment you'd like to make.
Based on your classification (e.g. postdoc, recent alumni, senior), Handshake will display the kinds of advising appointments you could choose. (So, if you're not an alumni, you won't see the "Alumni Career Appointments" option.)
Our appointments are split into six total categories: Prehealth, Distinguished Fellowships, Undergrad Career Appointments, Graduate Student Career Appointments, Postdoctoral Scholar Career Appointments, and Alumni Career Appointments (for recent alumni within two years of graduation).
Since the Prehealth Advising process follows a more tailored system, please follow the steps on their page to make a Prehealth Advising appointment.
Step 4. Pick the topic, time, and format of your appointment, as well as who you'd like to meet with.
If you have an urgent need or don't see a time that works for your schedule, email capd@mit.edu to find possible options.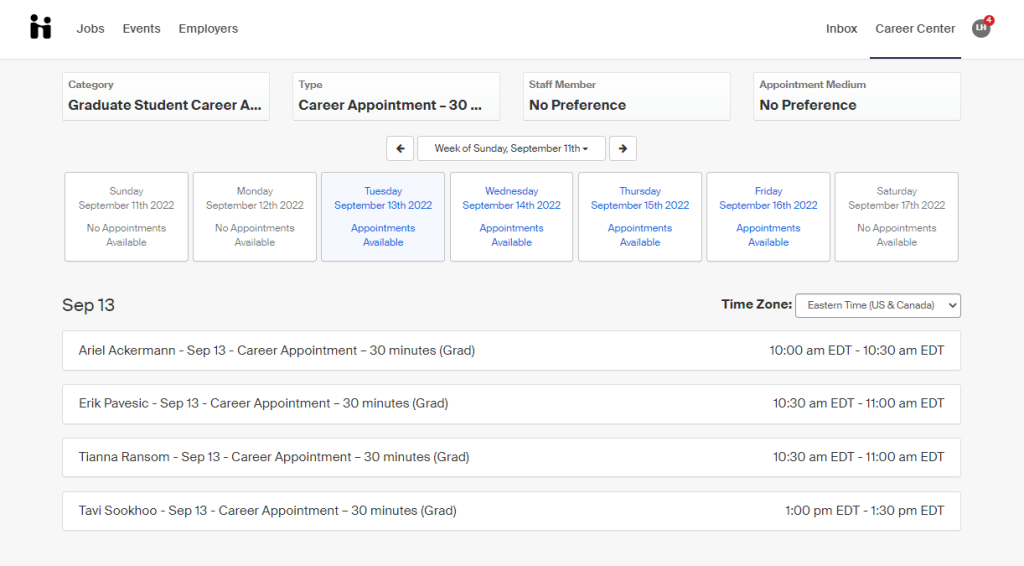 Step 5. Share how you would like to meet (for example, in-person or virtually) and how we can help you, then hit "request."
We'll look forward to meeting with you!