As a first-year student, you may be overwhelmed with transitioning your high school resume into one that is ready to secure all sorts of great experiences at MIT. This guide will help provide the basics, and as you have specific questions not addressed in this guide, be sure to schedule an appointment with us in CAPD.
Your Resume
With your resume, you basically have an 8½ by 11-inch piece of real-estate to demonstrate to your prospective employer that you are a good fit for the position. Your resume is a marketing piece—you are the product. You want to be relevant, concise, and formatted. An unformatted, full description of everything you have done will not be helpful as your reader may spend only six seconds on initial review. If you are completely lost as to where to begin, you may want to start by looking at example resumes, or here are some sample layouts (A, B, C) you can borrow.
Through this article, I want you to feel more confident about the message you are sending to your targeted reader. Afterall, it is your name that will be at the top of the document, so you should feel confident in what you put your name on. Whether you are updating an existing resume or starting from scratch, here are some tips to help you write a stronger resume:
Relevance
The key to writing a successful resume is to keep in mind: "who are you writing it for?" You will probably send your resume to a recruiter or hiring manager, a professor for a research opportunity, or the president of a student organization you wish to join. Depending on whom you send it to will determine several aspects of your resume.
Relevance is my short-hand for "consider your reader". Throughout this post I will refer to relevancy and how it may impact your document. A couple of things that I think are beneficial to help you think about relevance can be located in the job description:
Action Verbs
Job-specific terminology
Location in the description
Avoid being your own roadblock. If you have done something (or have an associated skill set or ability), try to make sure it is reflected on your resume. Pull from your:
Past/current experiences
Projects or coursework
Skills you have developed on your own
Past education
Anything you have done
The job description is not the only place you can find information to leverage in your resume. You may also want to review other jobs at the organization, or language from the organization's website. Likewise, having informational interviews with different contacts in the company (some of whom you may find through Advisors Hub, the Alumni Directory, or LinkedIn) may also highlight additional information you might want to include in your resume.
Basically, with your resume, you want to demonstrate that you understand what it may take to do the job that they need done. You want to be relevant to the position.
Content
The content of your resume is the key to being relevant. You will want to organize your content into different sections. Think of sections similar to a table of contents in a book or periodical—it will help the reader navigate to relevant sections faster. The most common sections are:
Education
Experience
Skills
There are a host of other sections you may want to include depending on your background, and type of role you are targeting. You may also have multiple sections that are similar but that go by slightly different names (e.g. "Professional Experience" and "Volunteer Experience"). You could have sections for awards/accomplishments, publications, licenses/certifications, trainings, projects, coursework, interests, and anything else you think might be relevant to your prospective employer.
Here are some of the different sections and some considerations for organizing content within a section. Remember that you will always want to make certain the most relevant content is presented to your reader.
Header
The goal of your header is to provide contact information and to efficiently use the space provided so that you can maximize the other sections of your resume.
At a minimum, you should include a contact email address and phone number. For your phone number, make sure you have a professional voicemail greeting. For your email address, make sure it is something that looks professional. Conventionally, you can include your address, or provide at least your city and state to provide a general geographic location if space is limited. You may also wish to include links to e-portfolios, professional websites, or online work samples if space permits.
Now, check your resume:
Education
The Education section can help the reader understand a bit more about what you know. In this section you can include degrees and completion information. You may also want to include coursework, test scores, awards, and activities. As a first-year student, you may want to keep high school or secondary school listed on your resume as a means to show additional coursework, test scores, or GPA. Over time, you may want to remove high school information as space is needed for more recent information on your resume.
Similar sections to education might include training, certifications, and licensure. Although you may see education at the top of most resumes, it might not always go there (especially after you graduate and build experience), but for most first-year students I recommend keeping it at the top.
Now, check your resume:
Experience
Experience is a broad term that basically encompasses things that you have done—so use that to your advantage. You could certainly have a single "Experience" section, but you may find it beneficial to think about clustering or grouping your experiences into meaningful sections. Sometimes I group experiences into two sections:
Relevant Experience; and
Additional Experience
Now, "Relevant" and "Additional" are just placeholder terms. Are you going for a computer science position? Consider having a "Computer Science Experience" section if you have some entries that will support that section title. You might have sections called "Projects", "Leadership Experience", "Service Projects", etc.—basically, keep in mind how these sections are relevant to your end reader and curate your experiences that align with what they are looking for.
Each experience should have information on your job title or role, the organization/company, location, and dates (month and year). You may choose to clarify your experience through bulleted PAR (Project, Activity, Results) statements.
These bulleted PAR statements allow you to morph the experience into different directions depending on what you did in that role. For example, if you were a grocery bagger at a grocery store, you may not find it beneficial to have a bullet point that says you "bagged groceries"—since that may already be understood. However, if you assisted with analysis for inventory, or helped with asset protection, or maybe even supported cash-handling—those are the bullets that will help your reader achieve a deeper understanding of what you are capable of—provided they are relevant.
Here is a way to craft a PAR statement:
Start with an action verb, add in a relevant task and extend it to either an outcome or accomplishment. When possible, try to quantify your work and outcomes to help deepen the understanding for the reader. Estimations and approximations are fine at the start, but over time start to keep metrics around your experiences.
Now, check your resume:
Skills
Your skill section provides a quick way for your reader to see the different skills you have acquired over time, regardless of context. Yes, you can still mention the skills you used within your experience bullets, but a skills section provides a quick way for many readers to quickly identify if you have the skills needed for the role. Depending on the quantity of skills you choose to list, you may want to organize this section into sub-sections.
I do recommend keeping this list to technical, procedural, language, or laboratory skills, and avoid social or interpersonal skills that might benefit from the additional context of a bulleted experience (e.g. leadership, teamwork, etc.).
Now, check your resume:
Other sections
There is no limit to the sections you can have on your resume, provided you always keep in mind the interests of the end reader. You might have sections that cover awards, accomplishments, service work, publications, coursework, patents, interests, etc.
Now, check your resume:
Formatting & Organization
Now that you have your sections, it is important to make certain that they are organized and formatted to help your reader see the content they find most relevant.
Formatting
No matter how impressive your background is, if your document is formatted poorly, it may make the reader think twice about reading your resume. Overall, your format should be easy to read for both your human reader and applicant tracking systems. Here are some key things to consider when formatting your resume:
Font
Is your font accessible and easy to read? Common fonts like Arial and Times New Roman are examples of fonts that can work, and avoid heavily stylized, curly, or silly fonts. You will want to make certain that your font is legible in print, so avoid going under a 10-point size (11-point works for most fonts). You can use text emphasis like bold, italics, or underline—but use them sparingly.
Margins & Whitespace
Although relevant content is the star of your resume, avoid filling an entire page with it. Line breaks, margins, and indentations can help improve the readability of your document. Keep margins uniformly between ½ inch and 1 inch, and leave white space to make it easy to read and see the different content sections.
Consistency
Attention to detail is a sought-after ability by many employers, and a quick way to undermine that is to be inconsistent. If you use a specific date format, a specific font size for headers, or a specific shape of bullet—be consistent.
One area you do not have to be consistent with is in quantity of experience, bullets, or entries. Too many times I have seen students try to have exactly two bullets for each experience. If you feel that you only had one meaningful bullet from an experience, list one. If you feel you had three, list three.
Notes on Applicant Tracking Systems (ATS)
ATSs are systems (usually algorithms) that review an application before it is sent to and reviewed by a human being. Formatting your resume for an ATS is important so that your resume can get further into the process. Since ATS is an umbrella term for a suite of different software packages and in-house solutions, it is hard to find a uniform agreement as to how best to format a resume to get through to a human being. Here are some things that usually help:
Avoid text boxes, templates, and tables
Avoid colors, images, or graphics
Focus on relevant content (specifically keywords)
Use common, easy to read fonts
Submit documents in PDF
Organization
Regardless of the sections you have, you will want to make certain you prioritize the sections from most-relevant to less relevant.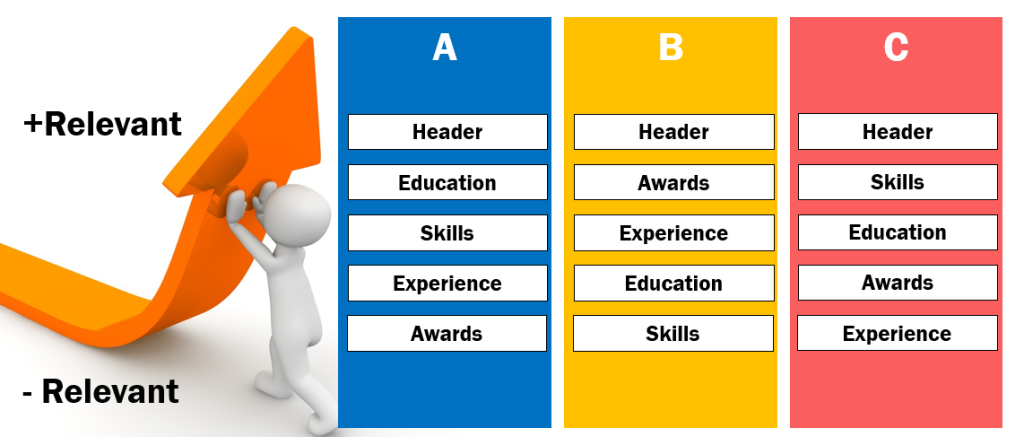 The key with the order you choose is to hold the reader's attention and to keep delivering information that they consider relevant. The one section I recommend keeping fixed at the top is your header. Ultimately, this is your document and you can position sections where you see fit.
Within the sections, there are two ways you need to organize content:
Some resume formats place a greater emphasis on relevance over dates, however the most common resume structure, Chronological, is what we are focusing on here. The rule of a Chronological resume is simple: if a section has dates, you will organize by dates; if not, you can organize by relevance.
Keep in mind that dates are listed in reverse chronological order, meaning you will start with the more recent (or current) items and work backwards.
Now, check your resume:
Final remarks
Now that you have written your resume, think about how you might modify it for different positions. You may find it beneficial tailor your resume if you are applying to different roles in different companies–really make certain you are being relevant to each position. Now, you may feel that this is a lot of additional work, but if you want your resume to get past the dreaded ATS and into the hands of a recruiter or hiring manager who will see your relevant attributes, you need to make certain you give them what they are looking for. In applying for positions, I recommend leaning more on the quality of your application more than the quantity of applications.
In the end, this document will carry your name so you should feel confident about it. If you are not feeling confident, or feel you might benefit from additional insight, I do encourage you to schedule an appointment with CAPD or an Alumni Advisor. You should keep in mind that if you show your resume to five different people, you might receive five different pieces of advice, so also incorporate your own view points into your finished document.